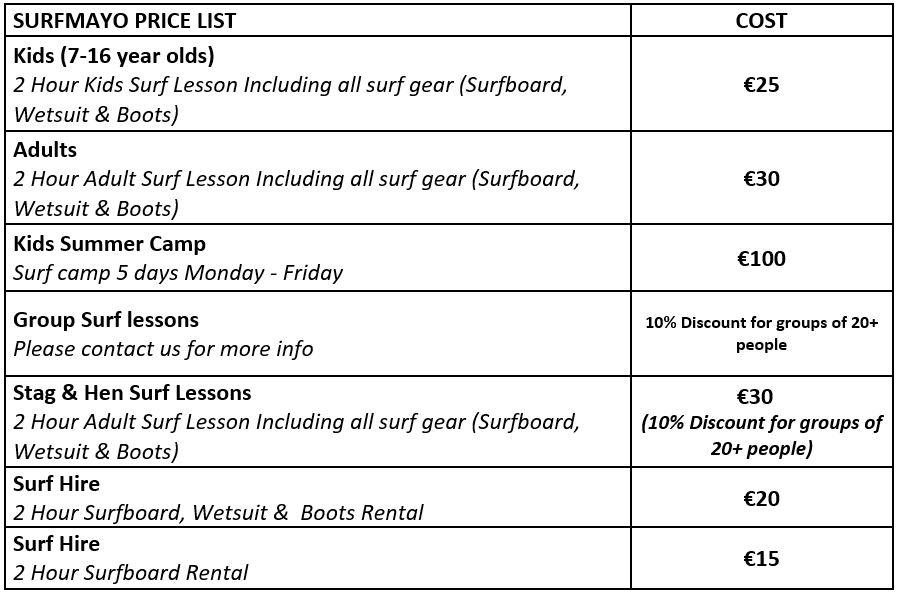 How to make a Booking:
Throughout the summer period we operate 7 days a week and aim to run our surf camp for 10 am & surf lessons for 1 pm, however some weeks we have to alter start times a little to fit in with the local tide times for Carrowniskey Strand to ensure optimum conditions & safety for all participants.
To make a booking, either drop us a call (00353877786821) or email ([email protected]), and we will let you know available surf lesson times based on tide times and availability. We will request your phone number as part of your booking in case we need to contact you in advance.
Important Information Regarding Covid-19:
If you are displaying any Covid-19 symptoms (sudden cough, high temperature, etc.) or have had contact with a confirmed case please cancel your surf lessons and do not attend – call your GP for advice.
Please arrive 20 minutes before the surf lesson / rental time slot for sign up, kitting out of gear, etc. to assist us with achieving C-19 protocols. Be prepared to wait in line whist maintaining 2 metres distance from other customers.
SURFMAYO will provide all the suitable disinfected gear to participate in surf lessons (wetsuit, boots & surfboards).
Please ensure participants have swimming togs for under wetsuits, towel, dry clothes for afterwards, water, post surf snacks & sunscreen.
Please respect the government travel restrictions
Respect other beach users at access points by giving them 2 metres space at all times.
Please get changed at either own vehicles / beach at a safe distance away from SURFMAYO site location.
All rentals & surf lessons must be pre-booked via phone / email to ensure we can maintain new Covid 19 protocols.
Please only arrive at the SURFMAYO site if you are booked in for a lesson or rental.
If you have young children, please emphasize the importance of social distancing during surf lessons and be prepared to assist them in the water if required.